Travel Gear Inspired by The Mandalorian's Baby Yoda
**WARNING** MILD SPOILERS AHEAD FOR
THE FIRST SEASON OF THE MANDALORIAN ON Disney+**
After being introduced to the adorable Baby Yoda–if that is, in fact, who he is–I could not help but be fascinated by his "container." What traveling parent hasn't dreamed of a safe and secure stroller/bassinet combo? That floats and follows you?!
Baby Yoda's original device was part travel stroller, part travel crib, and part baby jail that can be secured and controlled remotely. When The Mandalorian left with Baby Yoda under his arm in Episode 3, I kept waiting for the shot of his carrier being snatched out of the dumpster, like when Nicholas Cage retrieves the Huggies after the police chase in Raising Arizona. Although Baby Yoda is said to be 50, clearly he's no more than 18mos. in people years. Even my 10-year-old son was concerned that he wasn't in a car seat!
Why didn't the Mandalorian grab Baby Yoda's device?! Even Luke knew the value of a good carrier!
We didn't yet know what would become of The Mandalorian or Baby Yoda, so who knew if they'd need a full suite of baby travel gear anyway? But we've been treated to some excellent "frustrated parent" gags as Mando manages traveling and flying with a toddler. And Earth parents don't have access to Nick Nolte monkey guys (sob!) who can build or fix amazing devices out of nothing but a few scrap pieces of space junk. Now maybe Mando will have to rely on Amazon like the rest of us!
Travel Strollers for Baby Yoda:
Baby Yoda obviously doesn't weigh very much and he doesn't seem averse to being carried. But, he doesn't walk very fast. And, Mando is in need of some form of baby jail, which a stroller is used for at least half of the time while you're traveling.
The Mima Xari Stroller System is not an inexpensive stroller. However it is rugged enough to withstand space travel and the rugged terrains of planets like Tatooine or Corellia.
The Mima Xari's seat converts to a bassinette, and the seat itself can rotate 360° so baby (or Baby Yoda) can see the world at every angle from the safety of their stroller. The seat can be adjusted to two heights and has three recline angles. The whole stroller is easy to fold and unfold.
You can choose your frame colour and fabric colour from a number of options (it's a leatherette, so easy to wipe clean) but we couldn't resist this Orange and Black Rebel Special Edition. Get it? Rebel?
The Stokke Xplory V6 resembles Baby Yoda's device and even comes in a lighter grey, similar in colour to the actual device as well. However, we don't recommend a light colour for interplanetary travel. The black is definitely better for blending in with the bad guys as well.
The adjustable height works no matter the height of your companion–for the record, tall enough for a Mandalorian–and the maneuverability is unbeatable with its swivel wheel function.
Weight-wise, the Stokke Xplory V6 is pretty heavy (almost 38lbs.) for frequent travel, but it is easy to fold and so versatile that it functions well as a travel stroller.
Traveling with a jogging stroller might not seem like the best idea, but we had some of our best trips with our old jogging stroller in tow. When you're used to managing the folding and unfolding, and the weight, a jogging stroller is pretty great to travel with. Baby Yoda would be comfortable and safe rolling over the rough terrain. And Mando would appreciate the adaptability and ruggedness of a classic jogging stroller like the Mountain Buggy Terrain Premium.
Since Mando usually has a gun or weapon at the ready in one hand, his other can manage the hand brake. The Mountain Buggy Terrain Premium has a one-hand fold as well. There's lots of storage, there's multiple options for seat recline and handle height, and the adjustable tracking device on the front wheel ensures course accuracy.
Anyone else suffer major anxiety when Mando just casually strolls around leaving Baby Yoda to toddle about on his own? Maybe since Baby Yoda is actually 50 he could manage ok on a tricycle? There are a lot of stroller alternatives for travel but maybe a good bet here would be something Baby Yoda could power on his own that isn't a spaceship.
The SmarTrike Foldable Tricycle is maybe the only such device that could work for travel. It can be a stroller or a push trike or a trike powered solely by baby legs. Because it folds you can gate check it, and at under 19lbs it's actually much lighter than a lot of strollers good for travel. If your baby or toddler is stroller-averse, they may be ok with "riding" a trike without even knowing they're doing you a favour.
Travel Car Seats for Baby Yoda:
Episode 6 of The Mandalorian clearly demonstrates why babies and toddlers need to be in car seats on planes. Turbulance, or sudden drops in altitude caused by a robot guy, can happen at any time and lap infants are most at risk of injury. And Episode 7 demonstrates why babies need to be restrained in moving vehicles for a different reason!
While Mando devised a restraint for Baby Yoda, one of these FAA-approved car seats would have done a much better job.
Our travel car seat was always the Cosco Scenera because of its light weight and low price. We found it easy to install and was the perfect option for us and the amount we traveled.
A slight step up from the Scenera is the Mighty Fit 65, and it might be ever-so-slightly more rugged and suited to the kind of travel Mando and Baby Yoda have been doing. But if money is an issue for Mando but he still wants a lighter weight, FAA-approved seat, the Mighty Fit 65 will do a great job of keeping Baby Yoda safe and secure while traveling around the galaxy.
We don't yeat know for how long Mando and Baby Yoda will exploring the galaxy together, but a 3-in-1 convertible seat is worth the investment if you'll be traveling a lot together. The Maxi-Cosi Pria is a new seat that converts for infants to toddlers to preschoolers up to 100lbs.
It's not overly heavy at 20lbs and the magnetic clip is easy for parents but not so easy for Baby Yodas to wriggle out of. The Maxi-Cosi Pria's fabric cover is also machine washable and dryable, so there's no fear of spilled soup while flying around.
The Evenflo SureRide DLX is another great option for a convertible car seat for travel that is very lightweight (under 10lbs) and (fairly) inexpensive. Due to its smaller dimensions, it is a great option for airline travel. Surely Mando will appreciate ensuring Baby Yoda is safe and secure and unable to get up to any mischief!
It's good for toddlers up to 65lbs, so it will be a while yet before Baby Yoda would outgrow the Evenflo SureRide DLX… Maybe as long as three more seasons at least (fingers crossed!)
Portable Travel Beds for Baby Yoda:
It's clear that Baby Yoda is not accustomed to any sort of nap routine. This may explain his occasional bouts of naughtiness. We've seen that his use of the Force seems to tucker him out enough to pass out, but if Mando's lifestyle is not condusive to regular naps at home, a safe and comfortable portable baby bed might encourage more regular sleep.
Nick Nolte monkey guy definitely improved upon Mando's makeshift car seat/travel bed combo. And let's just say that Baby Yoda's crib on Sorgan (Episode 4) would likely not pass our planet's safety standards for infant equipment. If you're considering a travel crib, these would work for your baby and Baby Yoda…
We never see where Mando sleeps, or if he even sleeps, but the ComfyBumpy Travel Bassinet can easily and safely serve as a bedside bassinet as well as a portable baby bed. It comes with a mosquito net, a sheet for the mattress, as well a carry case.
At 18lbs, the ComfyBumpy Travel Bassinet is pretty heavy for a portable bassinet. However, it's suitable for babies up to 25lbs and is approved for both indoor and outdoor (so we're guessing that also means interplanetary) use. Also, it can easily be adapted to rocking or stationary mode, and is very easy to fold and unfold.
Fisher-Price Stow 'n Go Portable Bassinet
If Mando finds a permanent home he could use this daily–beside beside his bed or as a secondary nap location. And since it's portable, you'll get much more bang for your buck. The Fisher Price Stow 'n Go Bassinet weighs almost 11.5lbs and folds down into a tote-style travel bag. Baby Yoda's time might be limited in it since he can sit up on his own. However, you can use it until your baby reaches 20lbs/9kg before then.
The Fisher Price Stow 'n Go Bassinet is one of the more affordable portable bassinet options available, and it also has vibration, music, and light features as well.
The Dream On Me Karley Bassinet folds easily and has an incorporated mesh cover that would work great as a mosquito net. Certainly its main use is as a bedside bassinet but it does fold down into more of a stroller size and can be used indoors and outdoors.
It's listed as weighing 16lbs, but the Dream On Me Karley Bassinet's weight limit is 25lbs, meaning it can be used longer if your baby is on the bigger size but not overly mobile. It comes in lots of fun colours since Baby Yoda has such little colour in his life!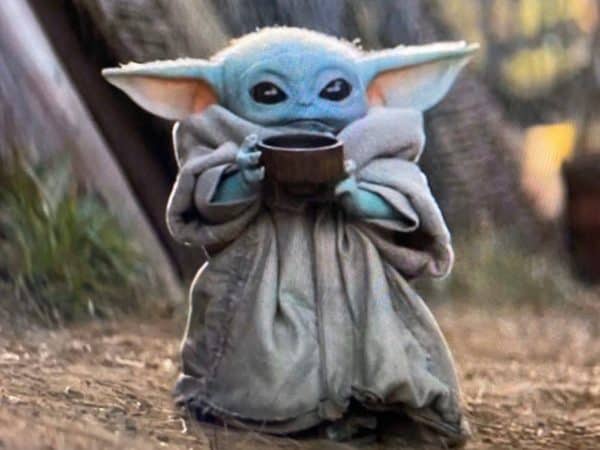 Travel Eating Gear for Baby Yoda:
As with his sleep routine, it's clear Baby Yoda is not on any form of eating routine. And while we can't vouch for the nutritional value of frogs, apparently bone broth is a good source of protein and provides essential minerals and amino acids. Bone broth is also said to support digestive health, which is good I guess when you're swallowing frogs whole.
So, Baby Yoda clearly can make do without a high chair and proper feeding schedule. But perhaps the addition of some cute travel gear for eating would encourage him to sit still and enjoy more nutitionally-balanced meals.
My children always ate better when they had favourite dishes to eat off of. Given Baby Yoda's propensity for frogs, he'd probably love his own froggy dishes and eating utensils for meals on the go.
This plastic froggy dining set includes a bowl, a divided plate, a spoon, and two snack containers for munching on the go. They are bpa-free but not recommended for use in the microwave or dishwasher.
Even though Baby Yoda is clearly capable of drinking soup from a cup, this cute, froggy sippy cup can ensure no spills if he decides mid-meal to use the force to choke someone or heal a gross wound.
Plus, this adorable froggy sippy is made from rice husk, so it's biodegradable and plastic-and bpa-free.
So we know that Baby Yoda can swallow frogs whole and sip soup from a cup. But he requires assistance eating unidentified roasted meat from a spit. The time will come soon when he'll need to eat like a big boy, and what cuter utensils to learn with than these froggy forks, knives, and spoons.
These froggy toddler utensils come in a set of six: three forks, three (not sharp) knives, and three spoons. They are crafted from stainless steel and the adorable froggy handles are durable and dishwasher-safe.
Since frogs seem to be Baby Yoda's most favourite things, you know he would be delighted with this froggy insulated lunch bag to keep his meals and snacks fresh and cold.
But this lunch bag is more than just cute. The insulated lining is wipable and pvc-free. Include a cold pack and keep food cool for hours at a time.
Have Baby Will Travel is a participant in the Amazon Services LLC Associates/Influencer Program. If you make a purchase through this site, we may receive a small commission. Click here to check out our Amazon Store.
See Also: