Flying with an infant?
Don't stress over the thought of air travel with a baby or toddler!
Starting at ten weeks old, I've flown with my children at every age and stage. I'm here to share my concerns, and the reality of our flights. They weren't always easy or vomit-free, but I don't regret any of them. And I speak from experience when I say that it does get easier as they get older.
You can maintain your sanity when you're traveling with children… just make like a Boy Scout and "Be Prepared"…
Flying With Babies…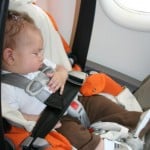 Flying With A Newborn:
Tips for flying with a baby aged 1-12 weeks…
My daughter's first trip was when she was 11 months. My son came with us on our first family trip when he was just 10 weeks. Bub's traveled quite a bit for a two-year-old, and he's been on planes at pretty much every developmental stage of his life. Some trips were easy. Some trips were tough. But they were all worth it!  Read More…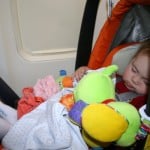 Flying With A Young Baby:
Tips For Flying With An Infant 3-6 Months…
Flying with an infant of this age means one thing for mom (or dad)… You're Busy. But this is also one of the more rewarding and fun times to travel with your baby. They're alert, you can usually figure out what they need when they need it, and they're still quite easily distracted. Unlike newborns, babies of this age are at least in the beginning stages of a routine, and while that makes your life easier as a parent, an understandable fear is blowing that routine by hitting the road.  Read More…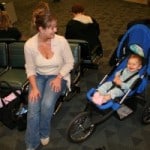 Flying With A Baby:
Tips For Flying With An Infant 6-12 Months…
We've flown with our kids during this stage more than any other. And just how many pictures do we have of us on board the aircraft? Zero! Flying with an infant of this age means one thing for mom and dad and anyone else in your traveling party… You're. Busy. And if you've got an early walker on your hands (lap)? Even. Busier. But this does not mean that flying has to be unpleasant. Unlike newborns, and younger babies, infants of this age are even more interactive than their younger selves, usually well-established into a sleeping and eating routine (that will not be blown away permanently by a few disruptions due to travel – promise!) and while you may be starting the exciting but nerve-wracking and messy process of starting solids, you can now (or soon!) take advantage of the calming and distracting power of SNACKS. Read More...
Flying With Toddlers…
Flying With A Toddler
Tips For Flying With A Young Toddler 12-24 months…
Even if you have a well-traveled infant, all bets are off once they enter the world of young toddlerhood. As things change for your little one, you need to change your expectations, and come up with new tricks for managing sticky situations. Flying with a toddler is no exception. And young, pre-verbal toddlers can definitely give you a run for your money. Read More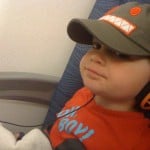 Flying With Toddlers And Preschoolers
Tips for flying with children 24mos. and up… 
Flying with a toddler – the very thought of it is probably the single biggest stress that families cope with when they're considering a family vacation. And as even the most-traveled families will tell you, once a kid hits two all bets are off. Although for us *three was the new two* in a lot of cases, I'm actually quite proud to say that we have not once been kicked off a flight, that in spite of a mid-flight barf-o-rama and the odd airplane toilet drama, we've made it through our toddler flying years relatively unscathed. I say relatively, since on our last flight when Bub was just-turned-three (so technically a preschooler, not matter how much that hurts to say!) he threw a full-on, screaming red-faced tantrum. Dun dun dun.
Other Tips For Flying With A Baby or Toddler…
–Surviving Early Morning Flights
Some charter flights take off eeaarrllyy – and since you have to be at the airport sometime three hours beforehand, is there any point in going to bed? Here are some tips to coping with an early morning flight with a baby or toddler…
–What To Wear When Flying With A Baby
It may seem like a frivolous thing, but choosing your wardrobe for flying with a baby or toddler (for you and for them) needs a bit of thought if you're going to be clean (relatively speaking) and comfortable when you arrive at your destination. Hint** A white pantsuit is probably not the best idea.
–How To Help A Toddler Sleep On A Plane
You might choose to try to drug your toddler, but in addition to testing the medication beforehand to ensure there are no adverse effects, you might try a natural approach with these tips.