Cuba with a baby or toddler is a safe, clean, and family-friendly choice for a vacation…
Cuba Fast Facts for Families – Detailed information you need to know if considering a family vacation to Cuba with a baby or toddler
Can My Toddler Drink the Milk in Cuba – Answering a concerned parent's question about the milk in Cuba
Cuba Resorts with Baby Clubs – A list of resorts in Cuba featuring baby clubs – an amenity some families deem a necessity
Cuba with a Baby: The Basics
It's the largest island in the Antilles that includes an intricate archipelago that includes the main island (about two-thirds the size of Florida), the Isle of Youth, and about 4,195 keys (cayos) and islets. The combined surface area of these Caribbean land masses is some 110,992 square kilometres.
The country sits at the mouth of the Gulf of Mexico, 140 kilometres from the Bahamas, 146 kilometres from Jamaica, 180 kilometres from Florida, and 210 kilometres from Cancun.
Population:
Cuba has more than 11,200,000 people, with 75 per cent of them living in urban areas. The country's official language is Spanish, although most Cubans working in the tourism industry can speak English. Most can also converse in French, Italian, and even German.
Environment:
Cuba is a long, narrow island stretching 1,200 kilometres from Cabo de San Antonio at its western tip to Punta de Maisí, the eastern tip. At its widest point, it measures 210 kilometres; at its narrowest, 32.
The landscape ranges from semi-arid desert to tropical rainforests. While largely flat, Cuba has four major mountain ranges: the Guaniguanico mountains in the west; the central Guamuhaya mountains and Sagua-Baracoa range; and the Sierra Maestra the east. The latter boasts the country's highest peak: Turquino, 1,974 metres. The country also has well preserved ecosystems and a diverse biosphere.
Climate:
Cuba's climate is moderately subtropical and predominantly warm. The island's average temperature is 25.5ºC and average relative humidity is 78 per cent. It also sees an average of 330 days of sunshine a year. Cuba's two clearly defined seasons are the rainy season (May to October) and the dry season (November to April).
Cuba with a Baby or Toddler: Varadero
Varadero is the largest resort area in Cuba with the most-developed tourism infrastructure. Most resorts are about a 30- to 60-minute drive from the airport. Havana is about a 90-minute drive, making it an easy day trip, even with a baby or toddler in tow.
The beach is very wide and long, and the water very gradually deepens–perfect for babies and toddlers to splash in. The waves are typically not too intense.
Varadero as a town is definitely worthy of a stroll. There are two parks, a church, and a few shops and snack bars. As we stayed at the Barcelo Solymar on our first family vacation, we could easily stroll to town and wander around when we needed a change of scenery.
Jibacoa:
About halfway between Varadero and Havana is Jibacoa. It's home to two resorts (one is adult-only). The rural setting was wonderful to explore with a toddler. For us it felt like a cottage vacation, but in Cuba.
Cuba with a Baby or Toddler: Havana
The exotic capital of Cuba and largest city in the Caribbean is a must-see for any visitor. For centuries, it has served as the gateway to the Gulf of Mexico. And in 1982, Old Havana, the city's historic centre, was declared a UNESCO World Heritage site.
Havana is big and bustling, yet still walkable and easy to explore on your own. If you're doing a day trip from Varadero or another resort area, consider hiring a taxi and driver for the day. You will be able to install your car seat, and an English-speaking driver can offer information and perspective on the sights and sounds you may miss if wandering around on your own.
The curbs are steep and the cobblestones might present a challenge for some strollers. We sailed over everything with our jogging stroller and never once regretted lugging it along.
Cuba with a Baby or Toddler: Holguin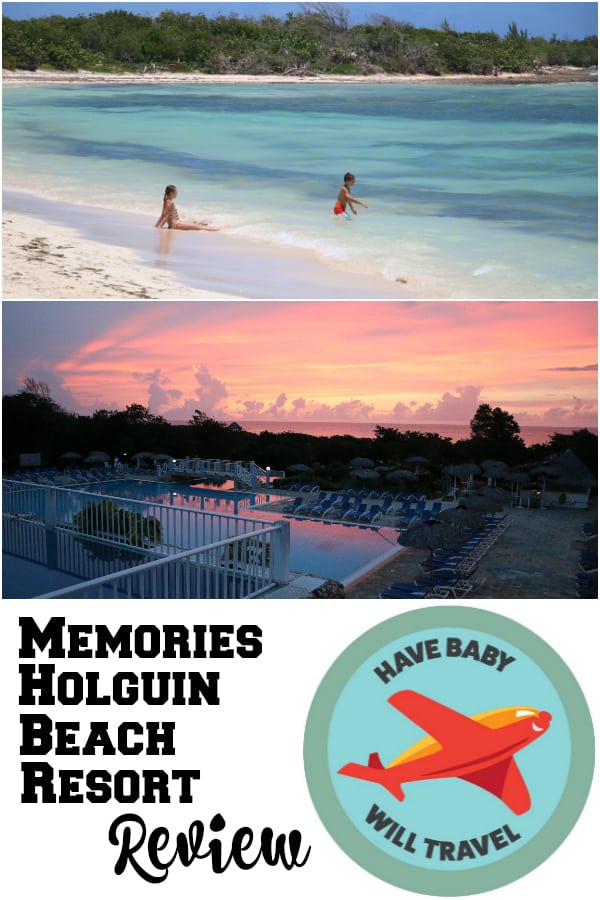 Holguin was actually the first area developed for tourism in Cuba, so while it is much quieter and more laid back than Varadero, it still has the well-developed tourism infrastructure that many families prefer with traveling with small children. The resort areas are a bit further from the airport–usually at least an hour's drive–but the roads are mostly straight and well-maintained, and the final destination is well worth the drive.
The beaches connected to the resorts in Holguin are mostly quiet, and vary in size. Most have snorkeling right off the beach. Guardalavaca Beach is the main public beach and worth a visit if you're craving a change of scenery and an ice cream. Day trips to nearby Gibara and Holguin City are offered by a number of tour operators, or you can arrange a car and driver for the day so you can come and go at your own pace and install your car seat.
We loved our stay at Memories Holguin Beach Resort and had an amazing excursion to Cayo Saetia, although that adventure is better suited for families with older children.
Cuba with a Baby or Toddler: Jardines del Rey
Dubbed the "Cuban keys", the tiny islands of Jardines del Rey ("the King's Gardens") are strung off Cuba's Atlantic coast. They are immortalized in Ernest Hemingway's novel, "Islands in the Stream". Mangroves and everglades, flamingos and roseate spoonbills, sun-bleached sand and turquoise waters make this little corner of paradise the perfect retreat.
The keys are in the agricultural province of Ciego de Avila. A 27-kilometre causeway connects the mainland to the keys. The islands are part of Cuba's northern coral reef, with spectacular snorkeling and diving.
The Cayos:
Cayo Santa Maria: You will likely fly in to Santa Clara, and it's a roughly 90-minute drive (half of which is along a causeway) to Cayo Santa Maria. It's worth it! This newer resort area boasts newer hotels and a small "fake village" that's home to an ice cream parlour and a bowling alley. Still, it's worth it for a day trip to the mainland for a wander through Remedios and Santa Clara.
Cayo Coco: Covered by thickets of mangroves, palms and other forestation, has a 22-kilometre strip of beach. A variety of excellent resorts—from the comfortable to the luxurious—line the beach. The island is named after the white ibis (coco). Resorts on Cayo Coco are a very short drive from the airport (bonus!).
Cayo Guillermo: To the west of Cayo Coco boasts the highest sand dune in the Caribbean. Resorts and spectacular beaches abound on Cayo Guillermo as well. At the very tip is the public beach Playa Pilar–an absolutely spectacular must visit!
Cuba with a Baby or Toddler: Trinidad and Cienfuegos
Sometimes the weather can be a little windy and cool on the north side of the island. Cuba's Caribbean side is a little more consistent if you're craving some Caribbean heat.
Watch where you fly into when visiting this area. Typically you'll arrive in Cienfuegos which is closer to the small resorts in that area. For the Playa Ancon resorts near Trinidad (preferred) it will be a pretty long drive–usually 90 minutes. It is an interesting drive through some small towns but if you're not prepared with snacks and drinks, it can feel like a bit of a slog.
The resort area in Playa Ancon is small and sleepy, and the beach is fantastic. Being close to Trinidad is a real bonus. It is only a few minutes in a taxi to town so you can come and go easily without it being a big ordeal. We loved exploring Trinidad, Cuba and would love to return.
Cuba with a Baby or Toddler: Cayo Largo de Sur
Also on the Caribbean side of Cuba are two idyllic islands—the Isle of Youth and Cayo Largo de Sur. Both boast sugar-white beaches and unparalleled dive sites.
The Isle of Youth is second in size only to the main island. Grapefruit fields, pine trees, parrots, and marshes characterize this spot, which also houses schools for young Cuban and foreign students. A few kilometres to the southwest is Cayo Largo del Sur, an idyllic little key in the heart of the Caribbean.
Cuba with a Baby or Toddler: Santa Lucia
The longest coral reef formation in front of the north east coast of Cuba, shelters a 21 km long beach: Santa Lucía. It's the main tourist destination of Camagüey with a highly preserved habitat of colonies of pink flamingos.
This territory offers excellent beaches, diving sites, sport fishing, and a city full of history and peculiar splendor.
Santa Lucía de Cuba beach features well equipped hotels and complete services, from restaurants to stores. In the city of Camagüey exist comfortable hotels as well. Located in the north coast of the central and eastern part of Cuba. To the east is the Nuevas Grandes Bay and Las Tunas province. To the west is Jardines del Rey and to the south the rest of Camagüey.
Considering Cuba for your next family vacation? Please check out our first-hand trip reports and our blog posts that reference Cuba.
See Also: