Wondering how to survive New York City with toddlers?
Here's our week-long adventure in the Big Apple…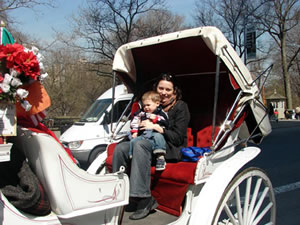 When faced with the decision of whether to stay at home with my nearly two-year-old while my husband was traveling to New York City on business for a week – it was a no-brainer. I literally started packing before my husband finished the sentence about the trip! Firstly, the thought of a week alone at home with my little guy scared me a little bit, and my 30th birthday was during this time, and who could pass up great shopping? It was time to see if New York City with toddlers was doable.
This wasn't Liam's first time on a plane, we had traveled to Cuba in December which, except for giving me a bloody nose on the plane ride home was ok! The flight to New York was only an hour each way (and luckily the hum of the jet engine lulled him to sleep on both flights!)
Here are my trips and tricks for traveling to New York City with toddlers!
Location, Location, Location!
There really are lots of great New York hotels for families. We ended up staying at 53rd and Lexington which was a great spot. A 10-minute walk to Central Park, the subway, and some great (toddler-friendly) restaurants.
Getting Around:
Getting around the city can prove being a bit of a challenge. We took a coach bus into the city ($12 USD per adult) and once we were there were going to rely on the subway and the good-old heel toe express. We also were armed with our fabulous Quinny Stroller and our baby sling.
Other than walking and the subway we took a double decker bus around the city, with the option to hop-on or hop off at various locations.
The subway can be a challenge to those with strollers, New York City is not as accessible as Toronto, and only certain stations have elevators up to street level.
New York with Toddlers Must-See Attractions:
With about twelve hours a day to fill of toddler time, while daddy was at work,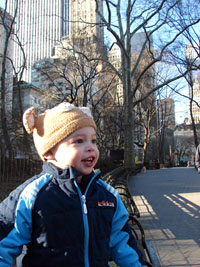 I had done lots of research about where to go and what to do. Here are my top picks of things to do in New York with toddlers…
It really is a magical and huge park, filled with lots of friendly New Yorkers and their pooches. We spent most mornings exploring the massive, 800-acre park. With a carousel, a zoo, a castle, and so much more, you literally could spend a week in there. The cost for the 15 minute ride around the park was well worth it!
It's the PERFECT size zoo for a toddler (and pregnant mommy). With polar bears, sea lions, penguins, and more, plan to spend one-two hours here with the animals. And at only $12/adult to get in, it's a great deal. Stop in next door at the RainForest Café for a snack, of what-else but Goldfish Crackers and some juice.
We (well, I!) decided that a two hour wait for the ferry to the Statue of Liberty was not in the cards. So, we hopped onto the bus and headed to the next stop, The South Street Seaport, and had a blast. This old commercial port for NYC is now a place to see a tall ship, shop at some great boutiques, have a nice lunch, and admire the views of the Brooklyn Bridge. It's a great place for kids, who can watch the water taxis, helicopters, and all the goings-on of NYC.
Right beside the New York City Library, Bryant Park is a clean and fun little park in the middle of the city to have a break, run around, and grab a carousel ride for $2.00. This carousel is smaller than Central Park's and great for littler ones.
Five floors of wonder! This is the place to be, especially on a rainy day. With activities for all ages from, Playworks, a thrilling space for kids under the age of five.
Go City Kids says that "Preschoolers can feed alphabet letters to a talking baby dragon, play scientist in a sand laboratory, and conjure up some make-believe on a fire truck, city bus, or general store. Babies can play high tech peek-a-boo (parents, older siblings, and caregivers will be as transfixed as toddlers) and experiment with sound, air, and colors. And families can use a computer to create a story, complete with video, and email it home, or to grandma. Every element is engaging for kids of all abilities, and designed with thought and care. Be prepared for crowds and possible a wait to get in (check at the front desk).The third floor ladies' and mens' rooms have padded changing tables, with paper rolls for extra hygenic cover."
Visiting NYC? Find Deals, Compare Rates, and Read Hotel Reviews on TripAdvisor
Have Baby Will Travel is a participant in the Amazon Services LLC Associates/Influencer Program. If you make a purchase through this site, we may receive a small commission. Click here to check out our Amazon Store.
See Also: