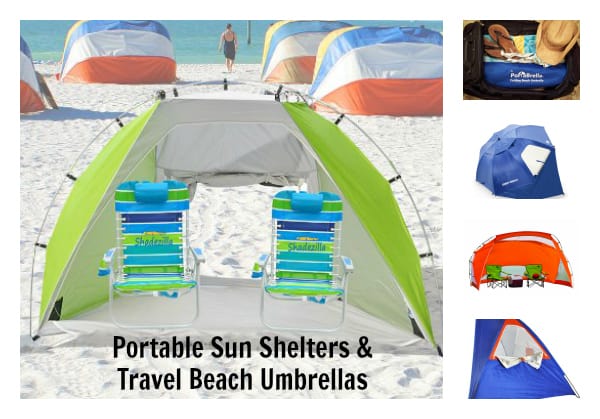 The resort we stayed at for our most recent family vacation to Mexico had a great beach, but not much shade. There were some lovely palm trees, but the shade they offered was somewhat inconsistent. Since my children are now bigger and we spent most of our beach time actually in the sea, this wasn't a big deal for us. But with a baby or toddler who's probably not wave jumping, but more likely sand digging or (fingers crossed) napping at the beach, you want stable and consistent shade from the sun's rays.
So if you can't count on your resort having appropriate palapas or beach umbrellas on offer, your best bet is to bring your own. YES, I'm suggesting you add One. More. Thing. to your already massive pile of luggage, but if the beach is where you're headed with a baby or toddler in tow, you need shade.
Here are some options for a portable sun shelter or travel beach umbrella that are lightweight and easy to travel with…
Portable Sun Shelter Options:
Schylling Infant UV Play Shade:
This little tent with a full bottom is big enough to join baby inside for a nap or a private spot to nurse. It folds down into an 18″ disc – not much bigger than a dinner plate. One complaint about this tent seems to be the sense of minimal air flow with the front flaps drawn, but most reviews for this compact and portable sun shelter are favourable. The Schylling Infant UV Play Shade – from $45.00 US
Rio Beach Portable Sun Shelter
This is a spacious shelter that measures 9 by 4.5 by 4 feet – plenty of room for a family nap or just to spread out your stuff. There's two interior pockets for stuff you need to keep handy, and two zippered mesh windows for airflow. It folds down into a carry bag that's just  22″ by 4″ and very light – easy to pack into a carry-on if need be. The only complaints about this sun shelter seem to be around staying put on windy days. Some suggest a cooler with ice would be enough to weigh it down, but that it also includes bags that you can fill with sand to help keep it in place. The Rio Beach Portable Sun Shelter – from $40 US.
The Texsport Sport/Beach Shelter
This big and bright shelter has no floor, which for some might be a drawback, but its of heavy duty construction and has lots of mesh windows for air flow. Plus it's super big – measuring 9 feet by 6 feet but folds down into its carrying case of 27″ ( a bit bigger than some of the other options) and it's less than six pounds. Personally I'm drawn to the colour, which I know is a ridiculous reason to purchase a sun shade! The Texsport Sport/Beach Shelter – from $65 US.
The Shadezilla Deluxe Large Beach Cabana
This is kind of the creme de la creme of portable sun shelters – it offers 100% UV protection, is spacious with lots of good air flow, and folds down to less than two feet long by 6.5″ wide and 5.5″ deep – it weighs only 6.5lbs. If you're going to be doing a lot of beachy travel, this might be a worthwhile investment since reviewers rave about its size and ease of set up. One even said you could camp overnight in it if need be! It is a pricier option, but considering it often costs at least $10 to rent a beach umbrella on most public beaches, it could pay for itself within a few trips. Plus its name is awesome 🙂 The Shadezilla Deluxe Large Beach Cabana – from $75.00 US.
Travel Beach Umbrella Options:
Sport-Brella Umbrella – Portable Sun and Weather Shelter
Oddly enough, there aren't as many decent travel beach umbrellas as there are its more structure-like counterpart, but an umbrella can give you a little more flexibility in terms of direction and angle. But it's tough to find a good one to travel with, since the nature of the umbrella with the longer pole means it does not fold up as small. This one is very well reviewed for ease of set up and durability, as well as design – with lots of wind vents and windows for good airflow. It comes with a carry bag with shoulder strap, but since it only folds down to 54″, it might be a better option for road trips instead of flying (unless you want to use up your valuable baggage allowance to check it!) The Sport-brella Portable Sun and Weather Shelter – from $60 US.
There really isn't a lot of information out there on The Portabrella – but it does look like an easy and economical choice if the classic beach umbrella is more your style. It comes in some cute colours and patterns, and folds down to a small enough size to fit into a carry-on suitcase.
Most beach hotels and resorts offer appropriate shade these days, but if you're at all unsure, or if you plan on getting out and playing on public beaches or perhaps some undiscovered ones, then a portable sun shelter or travel beach umbrella would be a worthwhile investment and definitely worth lugging along.
**Have Baby Will Travel may receive a small commission if you make a purchase from one of our links.**