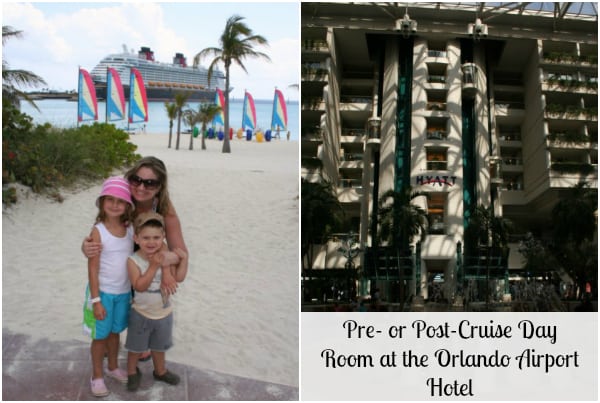 It was a crazy, wonderful, busy, energizing, fantastic week at Walt Disney World, and on our Disney Cruise on board the Disney Fantasy. But all good things must come to an end, so when it came time to get off the ship after breakfast and head to MCO, I realized we'd have some time to kill before our flight. Like ten hours. I couldn't fathom heading back to the parks or shopping or anything other than just completely relaxing on our last day, so I made one of the best pre-trip decisions I've ever made, and got us a day room at the Orlando Airport Hotel – The Hyatt Regency Orlando International Airport.
The Orlando Airport Hyatt is actually located right inside the airport, so the complimentary Magical Express transportation offered by Walt Disney World and Disney Cruise Lines dropped us off exactly where we needed to be. Located in the main area that connects MCO's Terminals A and B, the elevator takes you right to the lobby, where you can check in and then check out – but not literally! Day-use customers have full access to all of the hotel's amenities and services including the fitness center, an amazing pool area overlooking the runway with a heated outdoor pool, baggage delivery and pick up service to and from your departing or arriving gate, plus award winning restaurants, a full service business centre, concierge, and more. They are available from 10am to 6pm daily and are booked directly with the hotel by calling (407) 825-1234.
The room seemed huge compared to our compact stateroom on-board the Disney Fantasy, and we appreciated the space to get ourselves re-organized for our stay there, as well as for our flight home. After a snack we changed into our suits, and headed for the wonderful roof-top pool. Pool towels are provided, and the fountains and trees seemed to block out most of the aircraft noise – although we all enjoyed watching the planes come in. The couple of hours we spent playing in the water and lazing in the sun were a great way to wind down after our wonderful but busy week. The mid-day sun was quite strong, but there are plenty of umbrellas by the pool chaises for your much-needed doses of shade.
It was back to our room for showers and food before it was time to catch our flight. The elevator goes straight into the terminal lobby, where there are a wide range of fast food options and a Starbucks (blessedly!) A warm shower and the cool air conditioning sent Bub straight to dreamland, and we all relaxed and enjoyed our last few hours of vacation. We took our time re-packing and getting organized, because we could.
When we headed to our ticket counter, I marveled at how refreshed and recharged I felt, and made the mistake of commenting out loud that it was the most relaxing prep-for-the-flight home I'd ever experienced. Clearly I jinxed myself, as our flight home was delayed for over four hours. Usually we have good luck and no issues when we fly Air Canada, but not this time. Though I was grateful we did end up getting home (much later) that night, I found myself pining for our room at the Hyatt!
If you have a long layover, or a late-afternoon cruise or departing flight, a day use room at the airport is an affordable luxury that's totally worth it. My cousin and his family stayed at the Hyatt Orlando Airport last year when they had a late arrival before their Disney Cruise the next morning, and agreed that it was a great way to start their trip as well.
Day use rooms at the Hyatt Regency Orlando Airport Hotel are available from 10am to 6pm daily and are booked directly with the hotel by calling (407) 825-1234.
The Hyatt Regency Orlando Airport hosted my family's stay, but no other compensation was received for this review. All opinions expressed here are strictly my own.