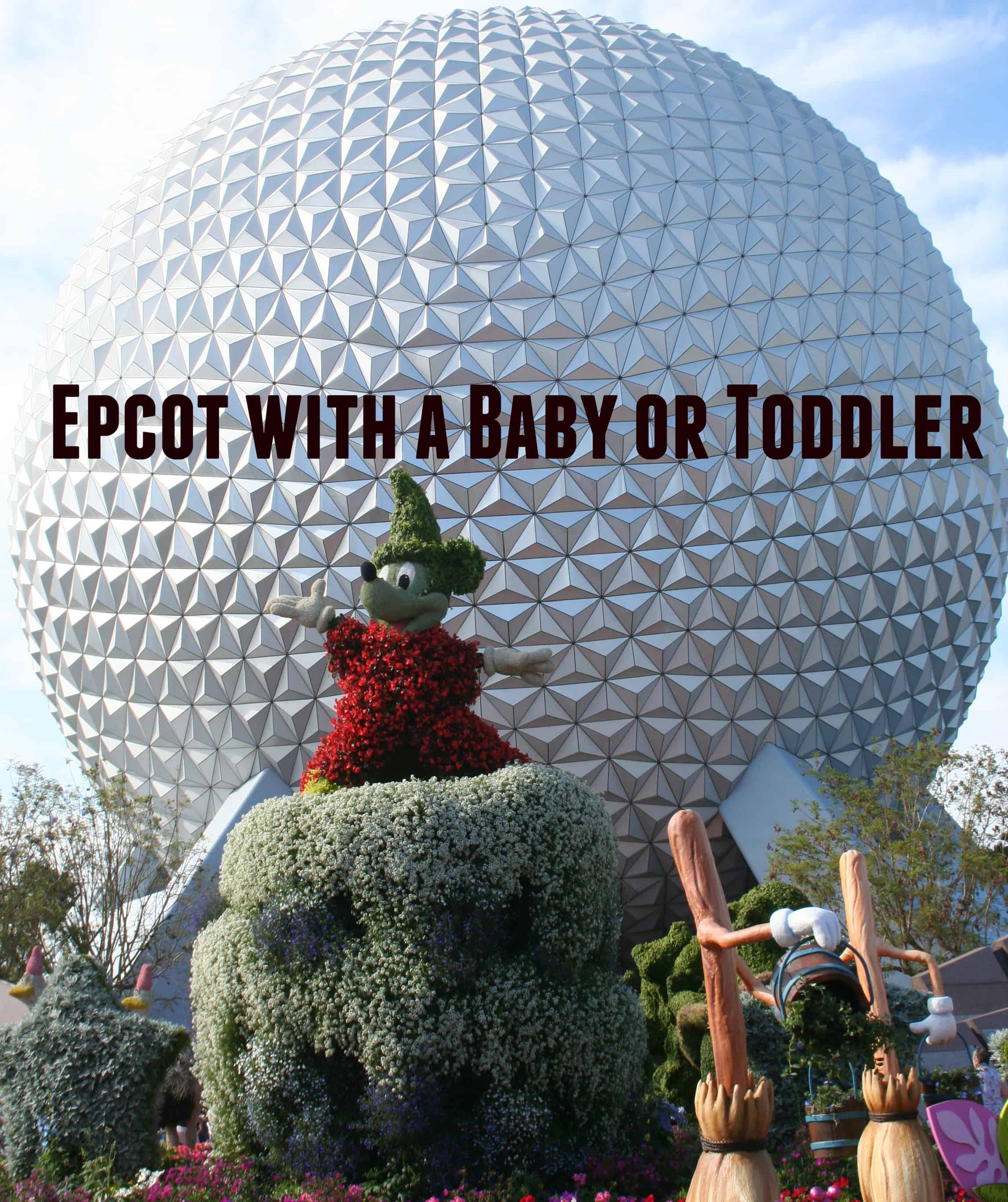 Epcot opened as Epcot Center in 1982, and I believe that was my 2nd visit to Walt Disney World. I'm giving away my age when I tell you that I was 11-years-old on that trip, but to say that was my dad's last visit to Walt Disney World and that he teared up talking about it decades later just shows you the kind of impact a Disney vacation has on your psyche. I remember Epcot opening being a BIG DEAL, and we're spoiled these days with how Disney continually tops themselves (and so quickly!) with their Disney Cruise Line and Adventures By Disney.
There really aren't that many attractions or rides geared to small children at Epcot, but it still truly is a wonderful place to bring a baby or toddler. Though it's almost twice as big as Magic Kingdom, Epcot is quieter, the pace is less busy, and strolling through the World Showplace (especially at night!) is a wonderful way to while away naptime or even bedtime with a heavy sleeper. Epcot with a baby is lovely.
Epcot Basics
Epcot is divided into two sections: Future World (East and West) and World Showcase. It is the only Disney World Theme Park to have two entrances. There's the main one that's serviced by a parking lot, buses, and monorail that will take you to the Ticket & Transportation Center, and the secondary one off beside the entrance to the World Showcase that connects to Disney's Boardwalk. You can get to Epcot via Monorail or bus, but the Boardwalk resorts (Boardwalk Inn, Yacht & Beach Club, Swan & Dolphin) offer boats to the International Gateway (Epcot's smaller entrance), but we always walk it because it's so short.
Because there are two entrances, there are two spots for stroller rentals – to the left of the main entrance, and then again towards the Boardwalk. The strollers are the same molded plastic ones as at the other parks (different colour) and rental prices are the same – $15.00 USD per day for a single-passenger stroller and $31.00 USD per day for a double. Disney offers a reduced-rate length of stay rental ticket for a one-time payment for as many days of stroller rental you will need. When you enter a Disney park, show your receipt at the stroller rental location and you will be zipped to the front of the line. The multiple day stroller rental fee is $13.00 USD per day for a single stroller, and $27.00 USD per day for a double stroller. A Kolkraft umbrella stroller can be purchased at Epcot for under $60 – we saw them at the gift shop beside the United Kingdom Showcase en route to the Boardwalk.
Epcot's hours are usually a little shorter than Magic Kingdom's – it really depends on the time of year. The same "Extra Magic Hours" apply at Epcot to Disney Resort guests, and you can pick up the pamphlet with the week's opening hours as well as showtimes and character greetings pretty much everywhere, or download the "My Disney Experience" app to your smartphone. No data worries – all Walt Disney World Parks & Resorts have free WiFi and the apps are free too!
The IlluniNations: Reflections Of Earth fireworks and music show happens most nights – usually at either 9:30pm or 10:30pm (times can be confirmed from the Times Guides around the parks). It takes place on the lake in front of the World Showcase Pavillions, and it is definitely worth a late night. Here is where a Park Hopper pass would come in handy – you can be in one park all day and then go take a break and head to Epcot for dinner and the fireworks. They are pretty loud, and we were able to see most of them from our balcony from the Boardwalk Inn.
Getting Around Epcot
Epcot is a very large (geographically) space, so getting where you need to go can take a while. Fortunately it doesn't usually get as busy as Magic Kingdom, so you're not dodging as many crowds. There are often lots of interesting things along the way – sidewalks that light up, an awesome fountain, etc. – that can easily distract you. We've found we never get around Epcot as quickly as we think we will. As with the other parks, though, you're wise to determine the things you simply can't miss, and do those first. Our favourite is The Seas With Nemo & Friends – we typically head there first, go on the ride, and spend a while in the aquarium – we have a picture of us in Bruce's jaws from every visit, and the kids can't get enough of Turtle Talk With Crush. It's really good!
Epcot Rides
There are not that many rides at Epcot, and really the only one that's good for wee ones is the aforementioned The Seas With Nemo & Friends. However, once your child is tall enough (40″), Soarin' is awesome and not too intense. Other rides at Epcot with height requirements are Mission Space (44″), and the brand new Test Track (40″). There are lots of fun, interactive areas inside the iconic Spaceship Earth, as well as ImageWorks in the Imagination! building. Captain EO might be too scary for little ones.
Fast Passes are also available at Epcot, as is the Child Swap option for grown-up rides. Definitely do Fast Pass for Soarin' and Test Track, those are the busiest attractions at Epcot by far.
Epcot Dining
The big draw for us with Epcot is the food. While there is great dining throughout the park, every single pavillion in the World Showcase has dining – usually more than one as well. As we've stayed at resorts in the Boardwalk area a few times, often (thanks to our Park Hoppers) we'll nip over to Epcot for dinner. The kids love the Quick Service Chinese Restaurant (Lotus Blossom Cafe), and the Princess Character Meals at Akershus Royal Banquet Hall in Norway is excellent and well worth the time and effort to get reservations. We had the Princess Lunch, and it was a great selection of food, the desserts were awesome, and my daughter was delighted as the Princesses come by each table and spend a decent amount of time with each guest. Character meals are great fun but they must be booked well in advance.
Epcot Baby Care Center
Epcot's Baby Care Center is off on its own little nook en route to Mexico as you approach the World Showcase from the main park. It is surprisingly large for the size of the park, and when I popped in midday on a Saturday it was completely empty. As with the Baby Care Center at Magic Kingdom, there is a main lounge with high chairs, tables, toys and movies, a nursing room, and a change room. No tiny toilets at Epcot's Baby Care Center – it seems MK and Hollywood Studios are the only ones with that distinction. there is also a large kitchen area with facilities for you to heat bottles and food, as well as a number of baby and baby care products should you run out or forget something.
The Epcot Baby Care Center was so clean, spacious, and cool, I could see just coming by with your kids for a chill-out if the heat and hustle is proving to be too much.
Fastpass+ Is Your Friend:
For a single theme park per day, you can make up to three FastPass+ selections in advance either online or using the My Disney Experience app, and you may change or cancel your selections any time. You can also get assistance from the Lobby Concierge at your Walt Disney World Resort hotel or at a FastPass+ kiosk in any of the parks.
Note that kiosks allow FastPass+ selections only for the park where the kiosk is located, but you can view and cancel any of your FastPass+ selections, regardless of location.
Once you redeem your initial set of FastPass+ selections (or the last arrival window has passed), you can make another FastPass+ selection for the same day at an in-park kiosk or on your mobile device, up to park closing. After you redeem the additional FastPass+ pick, you can return to a kiosk to make more selections (one at a time), subject to availability.
If your ticket includes a Park Hopper Option, after you use your initial FastPass+ selections at the first park, you'll be able to make additional FastPass+ selections (one at a time) at a kiosk or using the mobile app at the second park you visit that day, up to park closing.
Tips For Epcot With A Baby Or Toddler
–Epcot's Character Spot pretty much guarantees good character greetings (Mickey and Minnie!) without the usual super-long wait in the heat. And the heavy hitters are always there. Character greeting times elsewhere in the park are listed in the daily times guide, as well as on the My Disney Experience free apps.
-Once your toddler enters the preschooler phase, they might enjoy getting their Epcot passports (available in the Epcot shops) stamped at the "Kidcot" stations around the World Showcase. Or you could make one or use their autograph books.
-Consider a stroller even if your child is older and is used to a lot of walking. There is A LOT of walking at Epcot.
-As with all park visits, have a plan in case you become separated. Take a picture of your kids in the morning of your visit and attach a tag or sticker your child's clothing with your name and cel phone number on it, or these wristbands from Mabel's Labels are a great solution as well.
-Take the time to smell the roses. Epcot has lovely gardens, and often has special events surrounding food, wine, and their famous gardens. Take advantage of these events when your little ones are little, chances are they won't be interested when they're older.