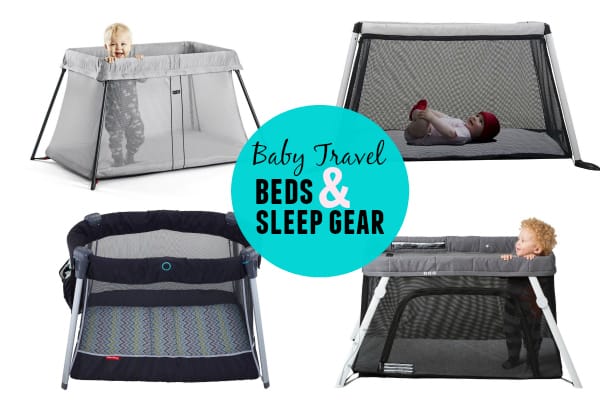 Whether you're visiting family or friends or jetting off on a much-deserved vacation at a swanky resort, the question of where baby will sleep is bound to arise. Even if you co-sleep at home, chances are that where you'll be sleeping while you're away will not have your baby's safety as their main priority, so obviously you need to make it yours.
Unless you are absolutely certain that your hosts or hotel will supply a safe crib or cot, a baby travel bed should be on your list of things to bring. There's no shortage of available travel cribs, bed rails, and other sleep accessories, so we're here to help you wade through all the baby travel bed options…
Best Baby Travel Bed Options:
phil&teds is one of the originators of excellent baby travel gear, and their Portable Traveller Crib is the first I ever experimented with. It is slightly complicated to assemble for the first time (regular campers may have an easier time of this) but it is ultra lightweight (only 7 pounds) and the full-mesh sides allow for total ventilation. It folds down very compactly and can easily fit in a regular suitcase or brought on board as carry-on. The phil&teds Portable Traveller Crib includes a cotton sheet, and a UV mesh top is available for extra protection if you'll be using it outside in the sun. At around $200 US, it's around average price-wise in the baby travel bed world, and most Amazon reviews for this item are favourable–noting that this travel crib doesn't have to be checked as an item on its own when flying with baby.
Seeing as I'm a tad *camping challenged* the first time I saw the BABYBJORN Travel Crib Light set up I was sold. Truly, it unfolds in seconds and is very sturdy with a soft foam mattress. At 13 pounds it is almost twice the weight of the phil&teds Traveller, and at around $240 US, it is a bit more expensive. When it's folded it is kind of the size of a flat suitcase, so when flying it would have to be checked as a separate piece of luggage. But if you think you will mostly be doing car trips or you need a portable crib for Grandma's house and the occasional vacation, it's hard to beat the BABYBJORN Travel Crib Light and the Amazon reviews for it are almost 100% positive.
At 11 pounds and roughly $210 US, the Lotus Travel Crib and Portable Baby Playard is somewhere in the middle between the phil&teds Traveller and the BABYBJORN Travel Crib. It unfolds similarly to the BABYBJORN and is somewhat larger when it's folded down, but the carry case option has straps that can convert to backpack-style. According to the (again, highly favourable) Amazon reviews for this item, the fabric on the Lotus Travel Crib is a little less supple than the BABYBJORN but its just as sturdy and a great piece of baby travel gear that can serve on vacation (added to your checked luggage pile) as well as it can at Grandma's house for occasional naps and baby jail usage.
Fisher Price Ultra-Light Day and Night Play Yard
At 15 pounds, the Fisher Price Ultra-Light Day and Night Play Yard is the heaviest travel crib featured here, but it is significantly lighter than typical playpens. It is, however, pretty much half the price of the others shown here at roughly $110 US. At first I thought the top was a UV mesh thing, but it actually claims to be in incline sleeper for an infant unable to roll over or pull up, whichever comes first. Not sure how I would feel about leaving baby to sleep there all night; I'd be more apt to treat it as a place for baby to hang out that's not the floor. It comes with a change pad and the crib mattress fits standard crib sheets, so there's no need to buy special sheets for this. It appears to set up and fold just as easily as the BABYBJORN Travel Crib and the Lotus Travel Crib, and the Amazon reviews are almost entirely positive. Also like the BABYBJORN and Lotus, it's big enough to need to be checked as baggage. At pretty much half the price of comparable travel cribs, the Fisher Price Ultra-Light Day and Night Play Yard might be your best bet for a portable travel bed for baby.
Best Travel Sleep Accessories:
These Inflatable Travel Bed Rails are ideal for families who co-sleep to help make hotel room beds safer for baby. I've heard of some families who either move the hotel mattress to the floor or just make a bed on the floor in their hotel rooms, and I would actually rather not sleep than do that. These inflatable travel bed rails are BPA-free, Phthalate-free, and lead free, and pump up in minutes with the included foot pump. The Amazon reviews for these are mostly positive, with the only complaints seemingly as a result of using them full time at home. With pricing at around $45 US, I think these inflatable bed rails would be a great and relatively inexpensive way to help baby-proof a hotel bed if using a travel crib is not an option for you.
One thing hotel rooms are usually well-equipped with are blackout curtains. But you might not necessarily be staying in a hotel and if your kiddo is used to sleeping or napping in a completely dark room, any brightness might be an issue. In that case, lugging along a travel blackout blind would be definitely worth the effort and the $40 US worth the investment. This clever item attaches to windows with suction cups to help eliminate any trace of light that might interfere with baby's (and your!) precious sleep.
Grobags are a combo of sleeper and sleeping bag that are a safe way to keep baby warm and cozy without bulky blankets, and they're great for kids who tend to kick their covers off. These travel Grobags are a travel version that has an opening to let a stroller harness pass through the legs, so baby can doze off while still safely buckled in their stroller. If you're able to do the sleep transfer from stroller to crib, baby is already bundled up for bed and will hopefully stay dozing. In some photographs of this product, it's used in a car seat. Please don't do this. It's unsafe to have anything between baby and the car seat.
See also:
**If you make a purchase after clicking a link from this page, Have Baby Will Travel may receive a small commission.**