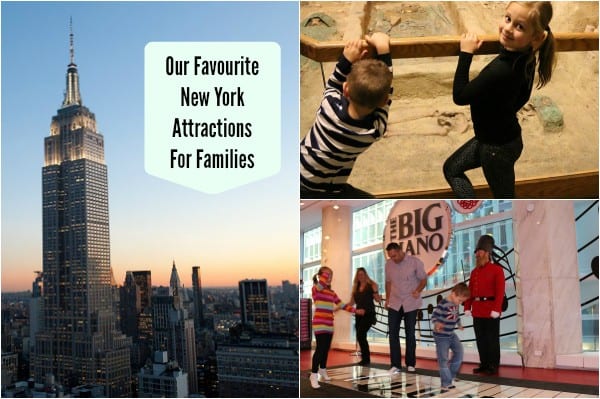 We crammed a lot into our long weekend in New York City. I was surprised just how child and family-friendly everything and everyone was. I've been to New York plenty of times for work and for fun, but I had never really played tourist before, so it was awesome visiting these iconic New York City attractions for families for the first time with my kids. All of these places are pretty centrally located, close to many great New York hotels, so cab rides likely won't be necessary unless you really want to teach the kids to hail one down.
American Museum of Natural History
Ok, first off: this museum is BIG. We knew we would not be spending all day here, so it was key for us to make note of our "must visits" and approach each floor with a plan. After a few hours here, I'm more convinced than ever that the tableaux come to life at night. The displays tell a story, and their careful arrangement was not lost on my kids. I needed to see the Blue Whale, and we spent way too long trying to take the perfect selfie with a Blue Whale photobomb. I'm not quite sure if we succeeded!
Some of the halls and displays are dark, which didn't always go over that well with my youngest. But he absolutely loved the dinosaur exhibit, and I think if we left him to his own devices, he'd still be there watching the informational video that is narrated by Meryl Streep.
The American Museum of Natural History is open every day from 10am – 5:45pm except for American Thanksgiving and Christmas Day. The suggested admission for adults is $22, or it's included in the New York CityPASS booklet.
Empire State Building
Although flights to New York are usually pretty reasonable, we opted to drive for this trip. Seeing the Manhattan skyline get closer as we approached the Lincoln Tunnel was almost worth the nine hours in the car. My kids recognized the Empire State Building right away, "It's Buddy's dad's office!" Elf is a big movie in this house.
Although a tourist visit to the observation deck is a very different process than an elf's visit to his estranged dad's publishing office, it was very cool to see my kids see just how big New York really is. I'm a sucker for Art Deco design, so I busied myself admiring the architecture while trying to temper my newly acquired fear of heights.
Depending on the season, topping your visit off with a hot chocolate or ice cream cone is a perfect New York afternoon outing.
The Empire State Building is open 365 days a year, rain or shine, from 8am – 2am. The last elevator goes up at 1:15am. Kids under six are free, and strollers must be folded before entering the elevator. Adult admission is $32 and children 6-12 are $26.
FAO Schwarz
**ED. NOTE: FAO Schwarz has closed. We are so sad about this!
One of the highlights of our trip to New York, was the FAO Schwarz Breakfast with a Toy Soldier tour. At 9am, a full hour before the store opens for the day, you can experience a guided tour of the flagship toy store–led by a toy soldier. Enjoy a grab bag of goodies from the FAO Schweetz section, before wandering and learning and road-testing a few select toys. Work up an appetite for bagels and juice with a twirl on the big piano. Yes, that BIG piano. It really works and your kids don't have to have seen the movie to love every second of it.
Tours are $40, and must be booked in advance by calling 212-644-9400 x4244 or emailing [email protected]. Guests of the tour are extended special discounts for some items should they wish to shop during their tour as well.
There plenty of things to do in New York, and no matter how long you stay you'll never be able to complete them all! Try to maximize your stay by choosing the top New York City attractions for families that you want to experience before your trip, and hopefully the list above will be a good start.
Many thanks to Hipmunk for supporting this post.