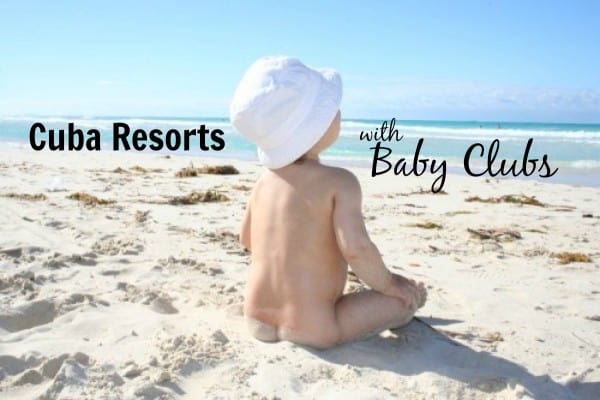 While I often tout Cuba as a fabulous family vacation destination, I will grant that there are a few shortcomings when it comes to amenities that we take for granted at other destinations. However, there are quite a few Cuba resorts with baby clubs, in a number of destinations throughout the island.
Baby Clubs, Not Just Babysitting…
While most hotels will offer babysitting services at an additional cost for children of all ages, the bonus of a baby club means you can often just pop by for an hour or two when it suits your schedule and/or your baby's routine best. If your baby is an easy napper, you may want to drop her off at naptime so she'd supervised while she sleeps, and you can steal a few moments to yourselves. Or perhaps you'd feel more comfortable letting your baby play in a safe, supervised, and air-conditioned area during awake time so you could hit the beach for a snooze or a snorkel. Either way, if you're comfortable enough to leave your little one in the care of others, it's nice to have that option.
Baby Clubs at resorts vary widely in terms of amenities and services available, and also – cost. Beaches Turks & Caicos' baby club is included, where Club Med's Baby Club (at Ixtapa Pacific or elsewhere) is extra – roughly $82 USD per day. Both are excellent resorts in beautiful destinations, but are priced significantly higher than comparable vacations in Cuba.
Cuba Resorts With Baby Clubs…
Information for resorts in Cuba can sometimes seem inconsistent, so I waded through all the information to find Cuba resorts with baby clubs who will care for infants and toddlers 0-4 years of age…
Cuba Resorts with Baby Clubs: Cayo Coco
Memories Flamenco – This resort touts itself as a 5-Star. Reviews of the Baby Club are decent, with perhaps the biggest complaint being a lack of shade at the Baby Pool, which the hotel management insists they are working on. Cayo Coco is an easy trip with a baby, as the resorts are very close to the airport. And the nearby public beach, Playa Pilar, is possibly one of the nicest I've ever visited. However, there are no Cubans on Cayo Coco – merely hotels. The closest town, Moron, is on the mainland at the other end of a 45-minute drive along the causeway. We felt like Brangelina as we walked around there; we were gawked at as there were truly no other tourists.
Cuba Resorts with Baby Clubs: Cayo Largo
Sol Pelicano – Located on the Caribbean side of Cuba, on Cayo Largo del Sur, and only a five minute drive from the airport, Sol Pelicano is a 4-Star all-inclusive hotel built ten years ago. There is a notice that the beach size changes depending on the tides, but kids stay and eat free most times of the year, or pay a special, heavily discounted rate.
Cuba Resorts with Baby Clubs: Cayo Santa Maria
Melia Las Dunas – Cayo Santa Maria is one of the newer areas to be developed in Cuba, and while it's quite a haul from the Santa Clara airport, we loved our stay at the Sol Cayo Santa Maria next door (listed below). Melia Las Dunas is listed as a 5-Star, gets good reviews for both the hotel itself and the baby club (which I peeked at when we walked through to check it out but it wasn't open when we were there).
Memories Paraiso Azul Cayo Santa Maria – As with the Memories Flamenco in Cayo Coco listed above, Memories Resorts are positioning themselves as very family friendly and most of them offer baby clubs in addition to the more traditional kids' clubs. These locations in Cayo Santa Maria are listed as 5-Star properties.
Sol Cayo Santa Maria – We stayed at the Sol Cayo Santa Maria in November of 2010 – we had a wonderful vacation that we paid almost nothing for, but the hotel was in dire need of refurbishment and that included the baby club. The women who ran it were very nice, but the club itself was not air-conditioned, and the collection of outdoor toys and small climbers were all run down and broken. We did not use the baby club, and I would have been disappointed had we counted on using it. The management says that they are planning an ambitious renovation, but I have been unable to find any more recent reviews that mention the baby club.
Cuba Resorts with Baby Clubs: Holguin
Playa Pesquero – I have heard only rave reviews of Playa Pesquero and the baby club. It is listed as a 4-Star hotel, and apparently is the largest resort in Cuba. According to online reviews, the new Villas are THE best room options.
Cuba Resorts with Baby Clubs: Varadero
Blau Marina Varadero – Next to the Punta Hicacos Ecological Park, the Blau Marina Varadero used to be the 4.5-Star Barcelo Marina Palace – a resort whose only complaint was it being a tad mosquito-y. It's a bit further from Varadero airport than most Varadero resorts.**note** The Blau Marina recently updated its brochure to state that their baby club now starts at age 2.
Memories Varadero – Now with a "Diamond Club" feature, the Memories Varadero is listed as a 4+Star and is the former Sirenis La Salinas. Reviews seem to be mostly positive, and it really seems that the Memories brand is living up to its family-friendly hype!
Paradisus Varadero – This is, I think, one of the very first 5-Star resorts in Cuba, and though we know we need to temper our expectations regarding Star ratings and Cuba, this resort consistently receives very positive reviews from all who stay. Most seem very satisfied with the quality and care received at the Baby Club.
Tryp Melia Peninsula Varadero – I have several friends who swear by this resort as an excellent choice for those traveling with babies and toddlers, and that includes the service and amenities at the baby club. It's listed as a 4-Star and the online reviews are mixed at best, but you always need to take those with a grain of salt if they're not vetted beforehand.
I've been to Cuba six times with my family, and our very first family vacation was to Cuba. It is true that the Star ranking differs from other Caribbean destinations, but Cuba is a safe and clean choice for a holiday in the sun with your baby. If you're thinking about a family vacation to Cuba you won't find a more affordable or safer choice.