If you're looking to book your first family vacation with baby, it's perfectly normal to be more than a little daunted by the idea. This list of the best resorts for babies will help you dip your toe into the family travel waters, and get used to your new travel reality.
Travel with a baby is not just different. It's better. And it keeps getting better. Honestly! Any of these resorts will offer a wonderful family vacation for every member of your family.
Best Resorts for Babies & Toddlers: Beaches Resorts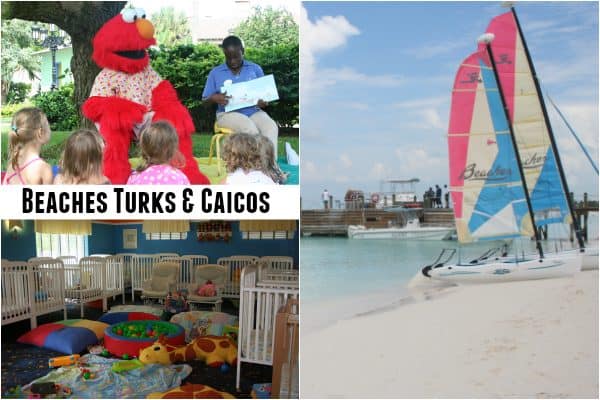 When it comes to resorts that go all out for families traveling with babies and toddlers, Beaches is really hard to beat. Once you recover from the sticker shock, take note of everything that's included in your vacation; in Beaches' case it's literally everything. Beaches Turks and Caicos is their flagship resort, with three "villages," a number of accommodation options, and over twenty restaurants to choose from. The beach is truly glorious–calm and clear and a shade of blue that's impossible to describe. Beaches Negril and Beaches Ocho Rios in Jamaica are also amazing resorts that maintain their  Jamaican flavour while offering so many incredible amenities for families.
But it's their partnership with Sesame Street that's tied to their baby, toddler, kids', and teens' clubs that really sets the Beaches properties apart as the best resorts for babies. The nannies that care for the youngest guests are truly wonderful at their job. They are incredibly caring and comforting with the littlest babies, and so fun and kind with the toddlers. And then there's activities such as baking cookies with Cookie Monster and Story Time with Elmo. Seriously. Your kids will try to ditch you and you'll want to stay and play. I did!
Grand Palladium Resorts have a number of properties in Mexico (four in Riviera Maya and one in Puerto Vallarta), Jamaica, and the Dominican Republic. This is a very (comparatively) affordable resort chain with comfortable amenities, and most guests come back with only good things to say. And, whether or not you think it's an amenity you will use, most locations offer an included baby club for guests as young as 12 months. There's no Cookie Monster or Big Bird, but Grand Palladium does have a relationship with a blue dog named RAGGS, who stars in an an Emmy Award-winning, live action and animated musical preschool television series originally produced in Sydney, Australia. I'd never heard of RAGGS, but my son enjoyed the stuffie and CD we received as a promotional item.
Grand Palladium's four resorts in Riviera Maya are the Grand Palladium Colonial Resort & Spa, Grand Palladium Kantenah Resort & Spa, Grand Palladium Riviera Resort & Spa, and the Grand Palladium White Sand Resort & Spa. These resorts have their own unique personalities and decor, but they are all connected and share the baby club. In Riviera Nayarit, there is the Grand Palladium Vallarta Resort & Spa; in Jamaica there are two (connected) properties, the Grand Palladium Jamaica Resort & Spa and the Grand Palladium Lady Hamilton Resort & Spa; and in Dominican Republic, there are three Grand Palladiums: Grand Palladium Bavaro Suites Resort & Spa, Grand Palladium Palace Resort Spa & Casino, and the Grand Palladium Punta Cana Resort & Spa.
We adored Franklyn D. Resort & Spa. Simply adored it. I thought it would be weird having a nanny–essentially a stranger hanging out with us while we were on vacation–but perhaps this was the strange perception of the nanny-less. Located in Runaway Bay, about a 30 minute drive from Montego Bay airport, Franklyn D. is a magical place where shoes are optional most places, and your vacation nanny stocks your room with snacks, tidies up, and helps you with the kids. Additional nannies (one for each child, even!) can be hired for the very reasonable cost of $25 US per day, and extra hours outside of the daily 9-5 are only $7 US/hr.
The rooms at FDR are all incredibly spacious, perfect for larger families. Cribs and high chairs are no problem, and we even had bed rails on our King Sized bed. The resort itself is incredibly casual, with a tidy pool and toddler-safe beach, top shelf liquor and delicious food at the buffet meals (held at family-friendly times) and the option for adult-only space and dining. But by far, the best thing about FDR is their staff. The nannies are all so lovely and caring (and patient!) but everyone from the bartenders to the gardeners and everyone in between were warm and friendly and fun. My kids were four and one when we visited, and we all still pine for our little slice of home in Jamaica. Read more about visiting FDR here.
Best Resorts for Babies & Toddlers: Club Med
I was stuck for the longest time in thinking Club Med resorts were for swinging singles, but it took just one afternoon in their Petit Club when my daughter was a toddler to realize that the service Club Med provides parents is pretty incredible. Their Mini Club Med service for children aged 4-12 is included at the resorts that offer it, but just a few select resorts in North America (Ixtapa Pacific in Mexico, Punta Cana in the Dominican Republic, and Sandpiper Bay in Florida) offer Baby Club Med services and amenities for infants 4mos. to 2-years-old, and Petit Club Med for toddlers aged 2-4. The daily care and activities are provided by G.O.s that are usually taking baby or child development in university. They are wonderful.
Baby and Petit Club Med services must be registered for once you check in to the resort, and the daily fee is, on average, around $100 USD. Best to budget for that in advance after booking your trip, but keep in mind that kids four and under stay free. The Baby Club Med on-resort amenities provided by Club Med to guests, like a room that has baby-appropriate food and snacks available, a baby and toddler section of at the buffets, as well as cribs/cots and change tables in the rooms, are complimentary.
Best Resorts for Babies & Toddlers: Melia Resorts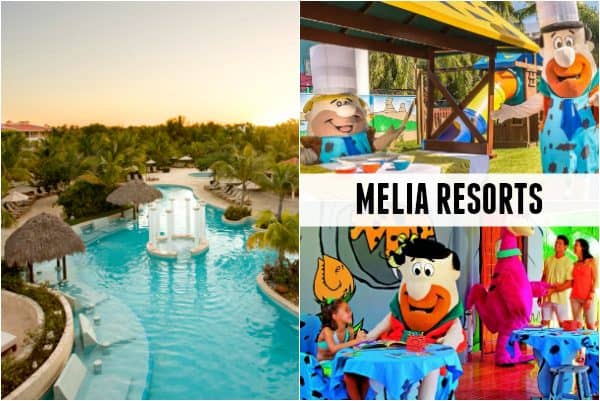 Meliá Hotels International is a Spanish company that currently operates more than 370 hotels in 43 countries and four continents under nine different brands. Meliá Hotels and Resorts is perhaps their most accessible chain, offering a wide range of luxury levels for guests of all ages. They have seven All-Inclusive resorts in North America that offer services for families, three in Cuba, three in Mexico, and one resort in Punta Cana, Dominican Republic.
The resorts with baby clubs in Cuba are located in Cayo Santa Maria, Cayo Coco, and Varadero. In Mexico, Hotel Meliá Puerto Vallarta and Hotel Meliá Cabo Real (in Los Cabos) both include a Baby Club offering services and amenities for infants 8-months-old and up. Hotel Meliá Cozumel, just off the coast of Cancun, is a family-friendly property with a Kids Club and family-friendly amenities, but no baby club. Melia Caribe Tropical is their large resort in Punta Cana, Dominican Republic that offers full baby and toddler amenities (including the Baby Club) as well as family-sized rooms for those with three or more kids.
Best Resorts for Babies & Toddlers: Fern Resort
You may be wondering why a small, family-run resort in Orillia, Ontario is here amongst the big wigs in the Caribbean and Mexico. The simple answer is, Fern Resort is a wonderful place for a family vacation, with thoughtful touches that all hotels hoping to cater to families with young children should take note of.
Rooms with reserved cribs are placed on a special list to be made up first, so housekeeping is done by naptime, there are step stools in every public restroom as well as in the bathrooms in the guest rooms, and during the summer and all school and holiday breaks, they offer kids' activities and child care for infants as young as a few months old. The kids' buffet in the dining room opens early, so if you'd like to relax at dinner and savour your food instead of wolfing it, you can feed the kids first and trot them off to the Playvillage or Nursery where a jumpy castle or age appropriate movie beckons, leaving you with the ability to linger over dessert. Fern Resort is open year-round, with seasonal activities that cater to the whole family. Winter and summer are our favourite times to visit.
Best Resorts for Babies & Toddlers: Azul by Karisma
Karisma Hotels and Resorts is another company that manages a number of hotel brands. Most of them are family-friendly, but their Azul line, in particular Azul Beach just outside of Cancun in Mexico, are amazingly baby- and toddler-friendly.
Azul Beach is an All-Inclusive resort that feels more like a chic boutique hotel. I haven't visited the other Azul properties, but although they're bigger, I'm sure they're just as incredible. For kids 4 and up there are a number of fun activities and services, but they do go out of their way to make those traveling with babies and toddlers feel comfortable and welcomed. So you can lighten your luggage load, Azul Resorts supply everything from bottle warmers to gourmet baby food, including strollers, cribs, bottle sterilizers, bottle warmers, change tables, baby monitors, baby baths, baby sleepers, and high chairs. Gerber brand baby food is available in all of their restaurants and from room service, and natural baby food can be prepared if requested.
Other Azul properties include Azul Fives and Azul Sensatori in Riviera Maya, Mexico, and their first hotel in Jamaica, Azul Sensatori Jamaica in Negril.
Grand Velas Resorts has three locations in Mexico, Grand Velas Riviera Maya, Grand Velas Riviera Nayarit near Puerto Vallarta, and their newest location near Cabo San Lucas, Grand Velas Los Cabos. These luxury, All-Inclusive properties offer large rooms and suites, and for those traveling with babies and toddlers, the exclusive "Baby Concierge" service.
Items such as bottles, teethers and pacifiers are gifts from the resort. Included at no extra cost and exclusively for use during your stay are a baby bottle sterilizer, high chair, crib, stroller, baby bath tub, and a baby bouncer. Grand Velas Resorts also offers a "My First Cut" hair cutting service if it's time for baby's first haircut, and Grand Velas Nayarit even offers a baby massage called Sunrise Massage that promotes sensory and cognitive development. For babies 1-3 years old, the treatment encourages babies to differentiate textures and sounds to the tunes of Mozart.
Portugal is a dream destination for me and in doing some research I came across a hotel brand throughout the country that is dedicated to providing a wonderful vacation for families. The Martinhal properties vary between apartments and villas to a more traditional hotel room set up, but all of the hotels include specialized activities specifically for toddlers and young children, with all kinds of amenities and services for kids of all ages.
Martinhal Beach Resort & Hotel was their first property. Located in Sagres, this beachfront hotel is located in a national park and is within two miles of a number of excellent beaches. Their other hotel in the Algarve, Martinhal Quinta, is on a lake and is near to a number of amazing golf courses as well as local beaches. There are two Martinhal properties in Lisbon as well. The Martinhal Chiado touts itself as "The World's First City Centre Elegant Family Hotel" and is a 10-minute walk from many landmark attractions, and the Martinhal Cascais has a swimming pool, includes breakfast, and is three miles away from Cascais Beach.
All four Martinhal properties include the Baby Concierge service, that allows families to pre-book baby equipment – from small items like door protectors, potties, bottle sterilizers and  warmers, to bigger items like safety gates, baby cots, and baby baths. The properties also sell a variety of lotions, diapers, and other baby needs from their front reception.
Best Resorts for Babies & Toddlers: Memories Resorts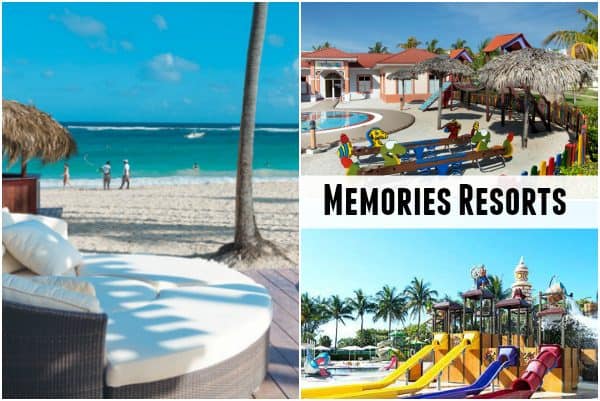 Managed by Blue Diamond Resorts, a Canadian company that's part of the Sunwing Travel Group, Memories Resorts are located in Cuba, The Bahamas, and Punta Cana in the Dominican Republic.
Memories Grand Bahama, located on Grand Bahama Island, and Memories Splash in Punta Cana have character experiences with the Berenstain Bears and Toopy & Binoo. All the Memories Properties in Cuba have included Baby Clubs operating daily from 9-5, with activities and child care for babies 0-3.
**If you make a purchase after clicking on a link, Have Baby Will Travel may receive a small commission.**