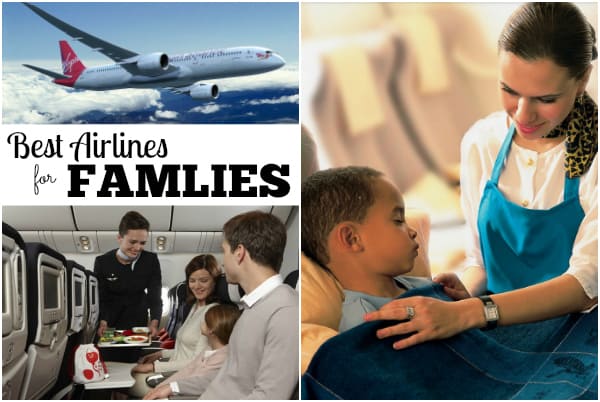 While the skies these days may not always seem very friendly, some airlines actually offer services and amenities that make life easier for traveling parents. Some of the best airlines for families have things like Sky Nannies. Seriously.
We've got lots of tips and advice for flying with baby, but your choice of airline can definitely have an impact! Take a look at our list before booking your flight.
10 Best Airlines for Families:
Best Airlines for Families: JetBlue
Generous (by today's standards) free luggage allotment, free seat selection, carry-on bag allowance for lap infants, as well as kid-friendly snacks, all help make JetBlue a popular choice for parents. Big stroller gate-checking and family pre-boarding also make the travel day a little easier. A lap infant may bring one diaper bag, one stroller, and one, car seat. Lap infants that are traveling at no cost do not qualify for checked baggage allowance.
Best Airlines for Families: Southwest Airlines
Southwest's odd boarding procedure actually works in most families' favour, as those with kids ages four and under are automatically in the second boarding group. Free checked baggage allowances, easy gate-checking policies, and discounted infant fares make Southwest one of the best airlines for families. It's been a while, but make sure you read about our experience flying Southwest with a baby.
Best Airlines for Families: Virgin Atlantic
Bottle warming, free in-flight cots, baby meals, great kids' entertainment options, and a backpack full of swag are just a few of the incentives that Virgin Atlantic offers travelling families.
Best Airlines for Families: WestJet
They don't serve milk on board, but WestJet allows most infant gear to be checked free of charge, and its friendly corporate culture means parents are exempt from side-eye-offering gate agents and huffy flight attendants. We've had great experiences flying WestJet with a baby.
Best Airlines for Families: Gulf Air
Free Sky Nannies. Seriously. Bahrain's national airline, Gulf Air, not only offers kids' meals and entertainment, but also has diapers on hand, free bassinet-booking, and the mysterious, magical creature known as the Sky Nanny – who helps out at Bahrain's airport but also on-board on Gulf Air's wide-bodied long-haul routes.
Best Airlines for Families: Emirates Airlines
Dubai-based Emirates Airlines offers families priority boarding and a complimentary stroller service at Dubai International Airport. On-board bassinets, special children's meals and entertainment, as well in-flight toys and activity packs makes you want to find an excuse to visit Dubai with a baby.
Best Airlines for Families: Air France
Special meals, baggage allotment for lap infants, pre-bookable bassinets, and activity packs for kids – you might get the impression that Air France actually likes families! And if the idea of gate-checking your stroller makes you nervous, small strollers are even allowed in the cabin if there's room in the overhead compartments. Vive la France!
Best Airlines for Families: Air Transat
At select airports, this Canadian charter has a dedicated check-in counter for families with small children, as well as family pre-boarding and priority luggage retrieval. Free seat selection for kids and LIMO! "stroller borrowing" are two more family friendly incentives offered by Air Transat, making it truly one of the best airlines for families.
Best Airlines for Families: British Airways
British Airways has family pre-boarding, "Skyflyer" activity packs, dedicated children's in-flight entertainment with parental controls, as well as nutritionally sound children's meals with a "Feed Kids First" policy. Those flying with lap infants (and their travelling party) receive free seat selection, which includes carrycots and/or child seats where available. My friend had a great experience flying British Airways with a baby.
Best Airlines for Families: Air Canada
Air Canada's lap infant policy includes a carry-on bag specifically for baby and has generous dimensions for gate-checked strollers. On International flights, lap infants are entitled to a free checked bag, and infant or children's meals are available. When traveling with children ages 12 and under, parents can call to reserve seats together free of charge. Flying Air Canada with a baby was pretty painless for us.